What Factors to Consider When Selecting a Lubrication Systems Supplier?
---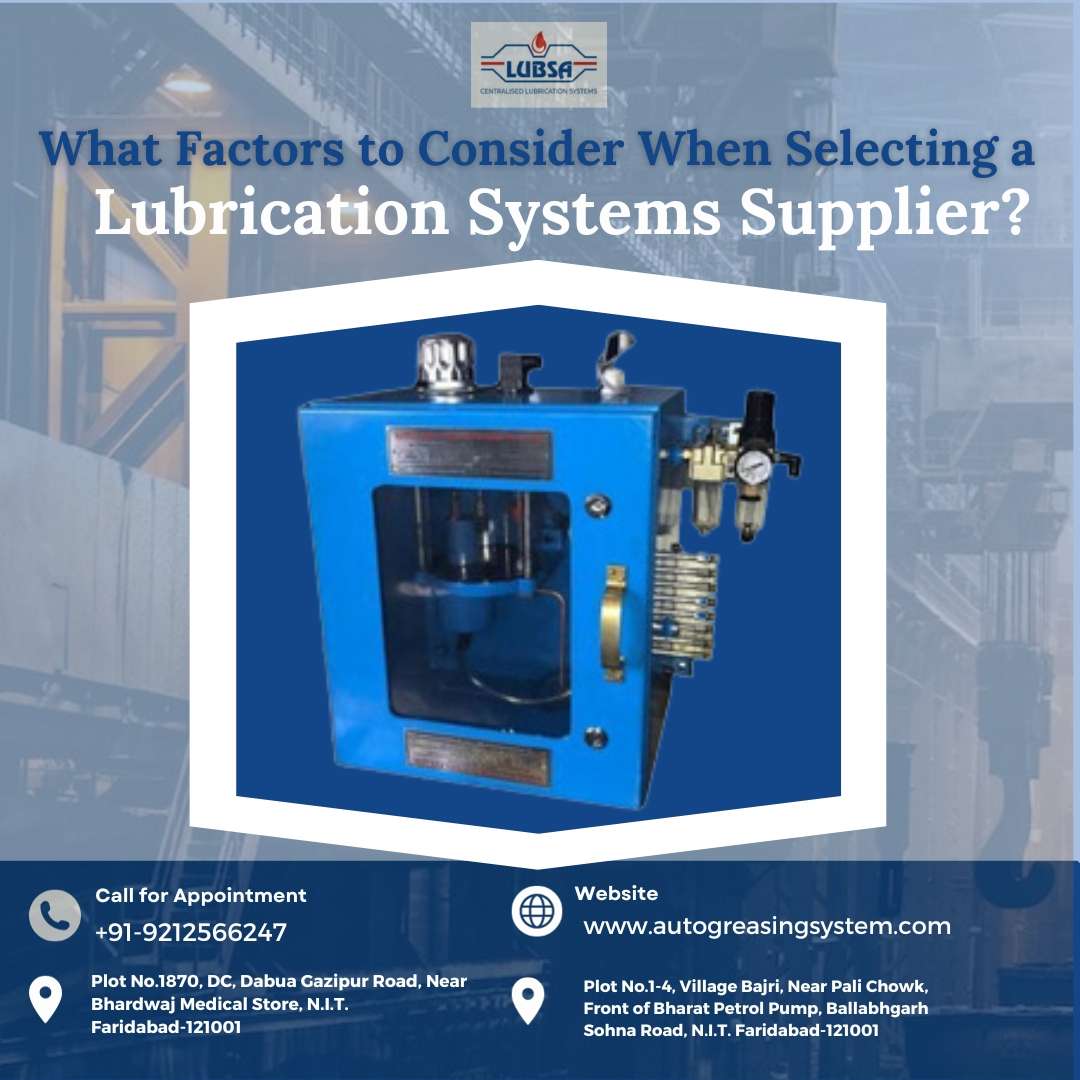 For sectors of the economy that depend on efficient machinery performance, choosing the correct lubrication system provider is important. With proper lubrication, your equipment will see less wear and tear and will last longer, according to a reliable source. Choosing the best Lubrication Systems Supplier might be a important choice.
These are the factors to consider when selecting a lubrication systems Supplier
Reputation and reliability: Start your search by looking at the reputation and dependability of the source. Choose businesses that have a history of providing high-quality lubrication systems and services. To evaluate a supplier's reputation, you may look at internet reviews, contact references, and ask for suggestions from other professionals in the field.
Product Quality: Examine the effectiveness of the lubricating systems they provide. Make sure the supplier offers goods that are renowned for their dependability and performance and that they fulfill industry requirements. To keep your equipment operating efficiently, high-quality systems are necessary.
Variety of Products: Various lubricating systems may be necessary for various machinery. Take into account a vendor who provides a range of goods to satisfy your particular requirements. The ability to pick the best lubrication system for each application inside your business is made possible by having alternatives.
Options for customization: Every industry has specific needs. Choose a provider who can adapt lubrication options to your unique operating and machine requirements. The lubricating system will be specifically designed for your equipment, thanks to customization.
Technical assistance and knowledge: Technical assistance and knowledge should be provided by a trustworthy source. They must be equipped with qualified personnel who can help with system setup, upkeep, and troubleshooting. Rapid technical support can help you avoid expensive downtime.
Value and Price: Consider the price of the supplier's lubricating systems and services. While cost is important, keep in mind the total value you get. If it guarantees long-term dependability and lowers maintenance costs, a little higher upfront cost could be acceptable.
Access to replacement parts: Over time, equipment may need new parts. Make sure the provider has access to replacement components for the lubrication systems they sell. In the case of system faults, downtime is kept to a minimum via easy access to parts.
Service and maintenance contracts:Ask the provider about the maintenance and service contracts they offer. The best performance of lubricating systems depends on routine maintenance. An agreement that calls for regular maintenance visits may be advantageous.
Certification and conformance: Check to see if the provider of lubricating systems complies with rules and laws. In order to demonstrate their dedication to quality and safety, they also need to possess the necessary certificates.
Environment-Related Issues: Think about the lubricating systems' effect on the environment. Some vendors provide environmentally friendly alternatives that support sustainability objectives by minimizing waste or reducing the use of hazardous lubricants.
Lead times and delivery: To prevent production pauses, timely delivery of lubricating systems is essential. Ask the provider about their delivery schedules and track record of fulfilling deadlines.
Customer Support and Communication: The key is excellent customer service and transparent communication. A responsive provider that swiftly responds to your questions and concerns promotes a productive working environment.
Long-Term Relationship: Consider whether a long-term partnership with the provider is possible. Creating a relationship can result in better customer service, better product suggestions, and significant long-term cost savings.
Benefits of Establishing a Long-Term Relationship with a Lubrication Systems Supplier
A long-term partnership with a provider of lubrication systems may be quite advantageous for companies that depend on efficient machine functioning. This durable relationship may streamline maintenance, improve productivity, and result in time and cost savings. Let's talk about the benefits of having a strong relationship with your provider of lubrication systems in simple terms.
The quality of the products is consistent: Consistent product quality is something you can anticipate when you establish a long-term partnership with a lubricating systems supplier. This guarantees maximum performance and lifespan for all of your machines by allowing you to rely on the same high-quality lubricating systems.
Knowledge of Your Needs: Your supplier gets to know your unique needs and machine specifications over time. They may offer ideas and suggestions that are specific to your sector, assisting you in selecting the best lubricating products and systems.
A more efficient ordering process: A faster ordering procedure is frequently the result of long-term cooperation. Establishing effective lines of communication with your supplier will make it simpler for you to place orders, monitor delivery, and manage inventories.
Expense Savings: Cost savings may result from establishing a long-lasting friendship. Loyal customers may receive discounts, special pricing, or volume-based incentives from suppliers, which might eventually lower your lubricating system costs.
Timely technical assistance: Your provider will be able to offer quicker and more efficient technical assistance as they get more familiar with your equipment and processes. This results in less downtime and quicker answers to maintenance problems.
Personalized Solutions: Customized solutions are frequently the outcome of long-term relationships. To ensure optimum performance and efficiency, your provider may customize lubricating systems to fit your unique requirements and equipment.
Personalized Solutions: Customized solutions are frequently the outcome of long-term relationships. To ensure optimum performance and efficiency, your provider may customize lubricating systems to fit your unique requirements and equipment.
Services for effective maintenance: Effective maintenance services are something you can anticipate from a long-term partnership. Your lubricating systems will be routinely inspected and maintained by your supplier as part of scheduled maintenance visits, helping to avoid unplanned breakdowns.
Rapid accessibility to spare parts: Machines may eventually need new parts. With solid cooperation, you can anticipate easy access to replacement components for the lubricating systems you employ, reducing production pauses and downtime.
Updates and enhancements to products: Long-term clients are often advised of product upgrades and developments by suppliers. This enables you to keep abreast of the most recent developments in lubrication science, thus enhancing the productivity of your equipment.
Continuity and Trust:A key component of long-term partnerships is trust. When you have faith and dependability of your Lubricating Systems Supplier for goods and services, uncertainty and tension are reduced.
Reduced administrative burden: Your procurement procedures might be made simpler if you work with a reliable provider. By doing this, the administrative work involved in finding new suppliers, negotiating deals, and managing different vendor relationships is lessened.
Support for Expansion and Growth: Your supplier can help you as your company develops and expands by offering lubrication solutions that can scale to meet your demands. This guarantees that, even as your activities change, your machinery is adequately oiled.
Solving problems collectively: A long-term partnership frequently encourages a team-based method of problem-solving. Together, you and your supplier may address problems and come up with solutions that are advantageous to both sides.
For effective equipment operations, choosing the correct Centralised Lubrication System Manufacturer is essential. Considerations include track record, product quality, customization, technical assistance, pricing, accessibility of spare parts, maintenance agreements, compliance, and environmental considerations.
Additionally, fostering a long-term relationship with your supplier may result in advantages like constant quality, customized solutions, cost savings, and cooperative problem-solving, all of which contribute to the general success of your organization.