What Factors Differentiate Top Centralized Lubrication System Manufacturers from others?
---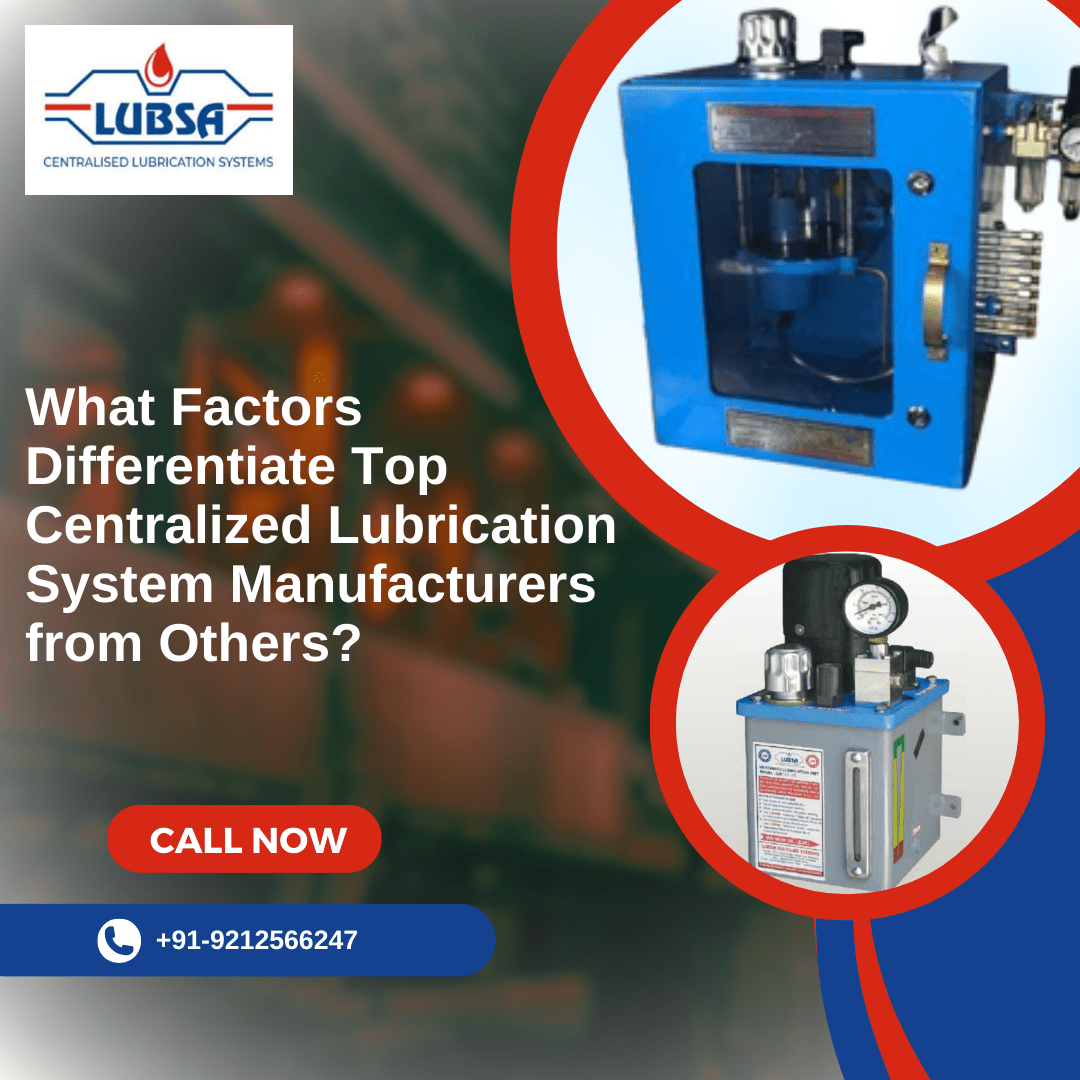 In the world of machinery and industrial equipment, the importance of proper lubrication cannot be overstated. It lowers downtime, increases machine longevity, and ensures smooth operation. When it comes to selecting a Centralized Lubrication System Manufacturer, you'll want to choose the best to ensure the optimal performance of your equipment. But what characteristics set the best manufacturers apart from the rest? Let's look into this in plain terms.
Here are the factors that differentiate top Lubrication system supplier from others:
Product Quality: One of the key characteristics that distinguishes top manufacturers is the quality of their goods. They invest in to design lubricating systems that are dependable, long-lasting, and efficient. These systems are built to resist the harsh conditions of industrial locations.
Experience and Expertise: The greatest manufacturers frequently have decades of industry experience. They have a thorough awareness of the lubricating requirements of varied machinery and equipment. This knowledge results in better-designed systems and more effective solutions.
Customization: When it comes to centralized lubrication systems, top manufacturers recognize that one size does not fit all. They provide customization choices in order to fit the systems to the exact needs of your machinery. This guarantees that you get the most out of the experience.
Standards compliance: Leading manufacturers follow industry laws and standards. This assures that their goods fulfill all safety and quality standards. When you pick a reputable manufacturer, you can be confident that their products meet all applicable criteria.
Technical support: The best Centralized Lubrication System Manufacturers offer exceptional technical assistance. They offer experienced teams that can assist you with system installation, maintenance, and troubleshooting. This degree of assistance is critical to keeping your equipment functioning smoothly.
Spare Parts Availability: Even the most dependable systems may require maintenance or repairs from time to time. Top manufacturers assure replacement part availability, decreasing downtime in the event of a breakdown.
Cost-effectiveness: While quality is of the utmost importance, the greatest manufacturers also provide cost-effective solutions. They add value to your investment by providing efficient solutions that save you money in the long term by reducing maintenance and improving equipment performance.
Customer Feedback: Customer feedback is an excellent predictor of a company's reputation. Top manufacturers have happy consumers who are prepared to speak well about their products and services. Reading reviews and testimonials might give you information about the manufacturer's track record.
Innovation: By embracing innovation, the top firms stay ahead of the competition. They are always improving their goods and researching new technologies to increase the effectiveness of lubricating systems.
Global Impact: Top manufacturers frequently have a worldwide footprint. This implies they can service consumers all around the world and understand the demands of various industries. Their international presence also demonstrates their dedication to quality and dependability.
Benefits of Choosing a Centralized Lubrication System Manufacturer?
When it comes to machinery and industrial equipment, making the proper decisions may have a significant influence on your operations. Choosing a Lubrication Systems Supplier is one of those critical decisions. Let us summarize the advantages of selecting a manufacturer for these systems.
Reliability: : One of the most significant benefits of working with a centralized lubrication system manufacturer is dependability. These companies specialize in developing technologies that keep your machines working efficiently. When you choose a recognized manufacturer, you can be confident that their products will perform consistently.
Extended Equipment Life: : Proper lubrication is akin to a magic formula for increasing the life of your machines. A centralized lubrication system guarantees that all of your equipment's critical parts receive the proper quantity of lubricant. This decreases wear and tear, allowing your equipment to operate more efficiently for longer periods of time.
Reduced Downtime: Downtime in machinery may be a significant pain and a loss on your earnings. Centralized lubrication solutions from the proper manufacturer eliminate the need for manual lubrication and the likelihood of unexpected malfunctions. As a result, there is less downtime and higher production.
Enhanced Efficiency: Lubrication is more than simply keeping things moving; it is also about ensuring that they move efficiently. A good manufacturer designs their systems to distribute lubrication precisely where it's needed. This helps your machines run at their peak performance, saving you time and money.
Cost Savings: While investing in a centralized lubrication system may appear to be an investment, it is actually a wise long-term cost-cutting strategy. These solutions reduce oil use and waste, eventually saving you money on lubricants and maintenance.
Customization: The appropriate maker recognizes that no two machines are alike. They provide modification options so that the centralized lubrication system can be tailored to your individual equipment. This means you'll receive a solution tailored to your specific requirements.
Environmental Benefits: A centralized lubrication system may be more environmentally friendly. You may lessen the environmental effect of your operations by using less lubricant and minimizing leaks.
Compliance with standards: Reputable manufacturers ensure that their lubrication systems meet industry requirements and safety regulations. This ensures that your machinery operates safely and lawfully.
Long-term assistance: When you choose a Centralized Lubrication System Manufacturer, you are investing in a long-term partnership rather than just a product. These manufacturers offer technical support, maintenance services, and replacement components to guarantee that your system continues to function properly for many years.
Relaxation of the Mind: You may have a piece of mind knowing that your machinery is being properly maintained by a system from a respected company. You can concentrate on your core business without having to worry about equipment failures or unforeseen maintenance bills.
Choosing the proper Lubrication Systems Supplier is important for the performance and lifetime of your machines. Product quality, experience, customization possibilities, standard compliance, technical assistance, spare part availability, cost-effectiveness, good customer feedback, innovation, and worldwide reach are some of the qualities that distinguish the best manufacturers from the others. By taking these aspects into account, you can make an informed selection that will benefit your business and equipment in the long term.